PowDay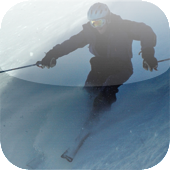 PowDay is your ski-day companion for Whistler Blackcomb. Like a good ski buddy, PowDay wakes you at 6:30a.m. when it has snowed enough to make it worthwhile to be on the first chair in the morning.

New Snow Alert
PowDay lets you choose the time and amount of snow needed to wake you up You can select the number of inches required to make it worth your time to wake at this most uncivil hour:
10 cm - It's going to be good
20 cm - It's going to be great
30 cm - Do you have a pulse?
40 cm - Dude, if you don't move you are obviously not a skier.
Live Lift Status Notifications
PowDay also notifies you of chair openings so you don't have to wait in lift lines. Set the app to notify you as each chair opens; like a best friend standing in line who calls you when loading begins.
Live WebCam and Temperature
In addition to the up-to-the-minute lift status, PowDay also provides temperature information, and even live WebCam images so you'll be able to check the visibility from the top of the Peak chair on those cloudy days.
Forecast
PowDay now shows the 5 day Alpine weather forecast.
Forecast Notifications
PowDay can notify you at night before you go to bed if there is any snow in the forecast. Of course, you can choose the time and number of cm needed.
Après Ski.
If you have a Hairfarmers addiction, PowDay keeps you updated on where they are playing for Après Ski. Other bands and bars are included too.
Whistler Blackcomb Operations
Easy assess to @WhistlerBlckcmb feed #WBOps tweets
Whistler Snow Stake (aka SN❆W RULER)
View the SN❆W RULER at Pig Alley in real time and last 12 hours.
Apple Watch
When using PowDay with an Apple Watch, turn off mirroring PowDay notifications to watch, otherwise you wont get audible notifications when lifts open or close.
GPS Run Tracking
PowDay does not do GPS tracking of your ski day, I recommend Slopes
Privacy Policy
you can read PowDay's very simple privacy policy here.
Support and Feedback
Links